With the stock market hitting new highs, investors are beginning to get overly-excited about this bull market. Since 1932, there have been 16 bull markets, the average of which lasted 3.8 years. The current one is 8.4 years old and is approaching the longest one of 9.4 years in the 1990s. Investors tend to forget about risk when they are making money. We always think about risk, and remember quite well 1987 when the market corrected 30% in two weeks. That changed a lot of plans for a lot of people.
The chart below illustrates the actual long-term performance of Spectrum's High Yield Bond Strategy since inception as compared to a buy/hold approach of the S&P 500 TR Index. We use strategies with the objective of making money consistently and keeping it. With an annualized return of 10.76% for 27 years, we have outperformed the stock market without drama, which makes clients feel more secure.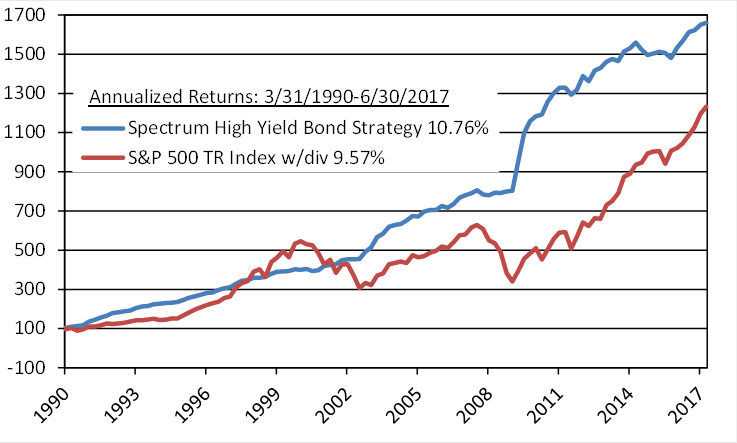 Quarterly performance calculations for the High Yield Bond Strategy are based on actual client accounts having dividends reinvested, no purchases or withdrawals during the period, and may have been obtained from personal or related accounts. The management fee for the High Yield Strategy is .48% per quarter beginning 12/31/10 to present, prior .50% and is reflected in the calculated performance. The initial commission on funds is not taken into account but could reduce performance. Some performance may vary due to fund restrictions and/or limitations imposed by the mutual fund families. Past performance does not guarantee future results. Current performance may be lower or higher than data quoted. S&P 500 TR Index is a capitalization-weighted index of 500 stocks representing all major domestic industry groups and assumes the reinvestment of dividends and capital gains.
Some of our observations from the chart:
Spectrum's $100 would have grown to over $1600 due to tactical management and compound interest.
Spectrum had only three down years, the worst of which was a return of -1.8%.
Spectrum's bond strategy can go up much faster than stocks at times.
An unmanaged investment in the S&P 500 TR Index in 1999 was still down 40% a decade later, and had drawdowns of 12% in 2015 and 12% again in 2016 (seen when viewing a daily return chart).
Experience, Risk, Performance, and Giving Back defines the four-legged table on which Spectrum's philosophy stands.
Age and experience is an asset in investing. We have seen all kinds of markets. Risk management is key to our success, and we continue to refine methods designed to keep clients' anxiety levels low. Producing consistent performance compared to unmanaged investments, and giving back to society a significant portion of our profits helps us make a difference to both our clients and to the needy.
This blog contains excerpts taken from the July 2017 edition of The Full Spectrum newsletter. To continue reading please download the full copy here: The Full Spectrum: July 2017
Disclosure 
Spectrum Financial, Inc. is a Registered Investment Advisor. The Full Spectrum is published quarterly for its investors and account executives. This publication is not intended to offer or solicit investment advice, nor should anyone act upon any suggestions made herein, without individual counseling from your account executive regarding risks involved. There is no guarantee that the recommendations of management will prove to be as profitable in the future, as they have in the past. The information presented in this issue has been obtained from sources believed to be reliable, but its accuracy is not guaranteed. Due to various factors, including changing market conditions, the content may no longer be reflective of current opinions or positions. A copy of Spectrum's current written disclosure statement discussing advisory services and fees is available upon request. All rights reserved, please notify when quoting.
This writing is for informational purposes only and does not constitute an offer to sell, a solicitation to buy, or a recommendation regarding any securities transaction, or as an offer to provide advisory or other services by Spectrum Financial, Inc. in any jurisdiction in which such offer, solicitation, purchase or sale would be unlawful under the securities laws of such jurisdiction. The information contained in this writing should not be construed as financial or investment advice on any subject matter. Spectrum Financial, Inc. expressly disclaims all liability in respect to actions taken based on any or all of the information on this writing. For full disclosure please see disclosures page here.